A welcoming and friendly light opera company
We are always delighted to hear from any potential new members of the society, regardless of age or experience. We are a very friendly and sociable society from many different spheres of work, from all corners of London.
Membership is drawn from a broad section of age and employment groups, many of whom work in the City or West End. We offer friendship, the chance to perform a wide repertoire of Gilbert and Sullivan material and to take part in fully costumed shows with a live orchestra.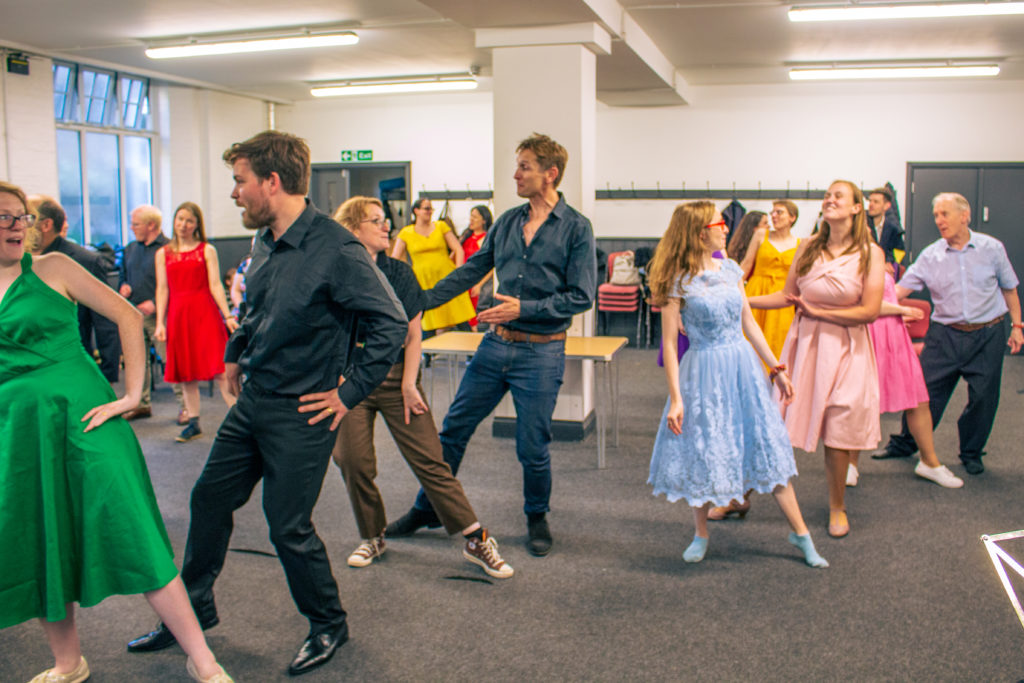 What shows do we perform?
We perform two shows a year in central London. Our main show is a full production of a Gilbert and Sullivan opera (not familiar with Gilbert and Sullivan? See below to learn more!). We usually begin rehearsing this in late January / early February, with the production taking place in late May or early June. We sometimes also have an additional performance of this show at the International Gilbert and Sullivan Festival, which takes place each year in Harrogate or Buxton in August.
Our second show is usually a more informal affair which for the last few years has taken the form of a pantomime or music hall evening (albeit with more Gilbert and Sullivan involved than might ordinarily be found in panto!). Rehearsals for this usually begin in September, with the production taking place in early December.
Gilbert and who?
Gilbert and Sullivan wrote 14 comic operas together in the late 19th Century which were huge hits in their day and have remained loved and frequently performed around the world ever since. Don't be put off by the word opera though – their shows are consistently tuneful, light and funny, and are a blast to perform.
In contrast to many modern musicals, the chorus in Gilbert and Sullivan shows always have a large and important role in the show and have lots of stage time, and there are normally a large number of principal roles, large and small. This isn't a company where if you don't get a leading part you feel like you're hardly involved, all our shows are truly an ensemble effort, and we frequently have a large and active cast.
When and where do we rehearse
During the rehearsal period for our shows, we rehearse on Wednesday evenings from 6.45pm to 9.45pm at St Gabriel's Hall in Pimlico (a 5 minute walk from Pimlico tube station).
We hold an open rehearsal at the start of each production. This is an ideal chance for prospective members who are curious about the company or who are thinking of joining to come along and meet the director, musical director and other members of the company, and learn about the show in question. Auditions for principal roles are held a week after the open rehearsal.
If you can't make the open rehearsal, that's not a problem. Get in touch and if it's still early enough in the rehearsal period we're always happy to welcome new members a few weeks in.
Auditions
Auditions are held for principal roles only; you do not have to audition to be in our chorus.
How much does it cost?
Membership of GLOC is based on a membership fee. This is currently £180 for the main summer show, and £90 for the winter show. These fees are halved for those in full time education. Fees can be spread over two payments to spread the cost. In addition, if you think you would struggle to pay, you can also discuss it privately with our treasurer, as we have sometimes come to alternative arrangements.
The fees cover the cost of a Musical Director and accompanist and the hire of rehearsal rooms. The company also appoints a production director.
How do I find out more?
The easiest and most reliable way of finding out when we are about to start a new production is to sign up to our newsletter using the form below. You will receive an e-mail giving advance notice of the next production, with full details of the rehearsal process and how to join. If you have any further questions regarding membership and how to join, then please contact us.
Sign up to our mailing list!